Pools can be a lot of fun. When the sun is shining, and the temperature is above 30 degrees Celsius, afternoons spent poolside can be the most enjoyable, while the kids are in the water playing games and expending extra energy. The pool also comes in handy if your child's birthday falls in summer. Instead of paying a fortune to go to a play barn for your child and his friends, you can host a pool party. Sounds great, doesn't it? Here are some tips to make your event a memorable one!
Set the Date
If you want to organize a pool party, you first need to decide on a date and determine the number of guests. It is good to plan it for a day when you do not have to work. The size of the pool and the surrounding environment will determine the number of people to invite. It is essential to make sure that the guests are comfortable and do not overlap with each other.
Secure The Garden
The first thing you need to do is secure the garden so that the adults present can have a relaxing time. There is nothing worse than a party where parents live in fear that their children will break something or get hurt. It is advisable to mow the lawn and protect any uncovered bumps and thorny roses with a fence or straight wooden fence. To make the environment even safer and more comfortable, soft plaids made of cotton and cushions for children to roll around are helpful.
Think of Fun Games and Activities
Organize fun games and activities such as the giant ring toss for kids. Each player has one turn to throw all the rings in this game, and the player with the most points wins. Besides, the tube can also be used as a pool float when not playing.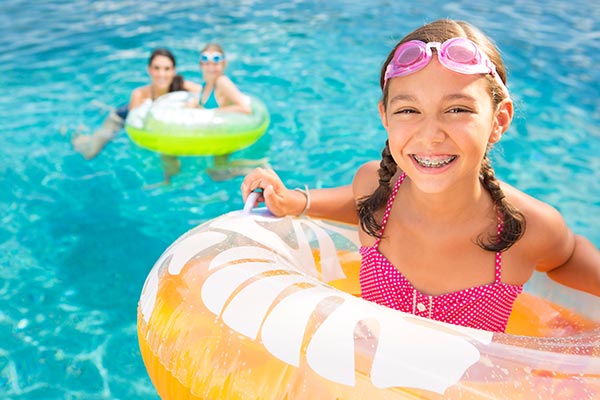 Decorate the Garden for the Party
To make the party more exciting, you need to decorate it properly. To save money, you can make flags to hang among the trees, choose fabric by the meter, cut out lots of triangles, and staple them to the string.
You could also be environmentally conscious and choose balloons or biodegradable tableware. A garland of lights set up outdoors is a great idea for a warmer and more intimate atmosphere.
Create a Small Buffet
An extensive buffet won't be a good idea; it is not wise to give children a stomachache at a party. Besides, there is a risk that many foods will be left over and will have to be thrown away. The rule is: a little goes a long way. Instead, you can prepare snacks such as pudding, mini pizzas, etc. You can also make sandwiches or focaccia, fruit juice, popcorn, and a bag of candy. And the cake? No whipped cream or fresh cream that will spoil in the sun. Jam cakes, fruit cakes, and miniature cupcakes are preferred.
What About the Adults?
Think of your parents and relatives and you will be fine. Set up a relaxation area for the "over-18s". A table, deck chairs, thirst-quenching drinks would be enough, and plenty of ice. Set up a gazebo or parasol to keep out the sun.
Other Useful Information for Pool Parties
-Brush up on your first aid techniques before the party, just in case.
-Apply sunscreen to light-skinned children.
-Stock up on extra towels for those who forgot to bring their own.
-Prepare plastic plates and cups to prevent broken glass from falling into the pool.
Are you ready to host this fantastic pool party? Let us know in the comments!