An evening under the stars is a romantic experience like no other. The idea of spending a romantic evening in an accessible place under the sky gives you the comfort of being detached from the modern world.
It can be an excellent opportunity for you and your girlfriend (or partner) to connect on several levels.
In this guide, we outline what you need to do to get fascinated by a stargazing date!
Choose The Right Date
First of all, in most cases, a stargazing date should not be your first date. Imagine asking someone you just met on a hilltop in the middle of the night out on a date. Creepy, right?
More to the point, if you have not known the person very long, communicate your plans clearly. Explain to him/her where you're going to go stargazing, what to expect, and everything else.
Choose a comfortable place where your partner feels safe (not too isolated, but not too crowded), and remember to bring food, plenty of water, and a blanket.
Backup Plan
Also, always remember to have a backup plan. Of course, if the weather is bad, you won't be able to do any stargazing, so it's a good idea to have a plan B so your date doesn't get ruined.
Now that we have some clear basic rules, let's move on to the technical stuff.
What You Need for a Starry Sky Date
Here is what you need to prepare for your starry sky date.
Transport
Layers of clothing, depending on the outside temperature
Waterproof blanket (for sitting), additional blankets to keep you and your date warm
Folding chairs, if possible
Music (a smart phone is OK)
Insect repellent
Sufficient food, snacks, and beverages
Smartphone apps for stargazing
Garbage bags
That said, here are some general stargazing date preparation and tips.
Watch the Weather Forecast
Check the weather forecast in advance to observe as many stars and celestial objects as possible. There are several websites and apps that provide radar and satellite weather forecasts for astronomers.
Now it is easier than ever to use weather apps to check for clear nights and choose appropriate stargazing times.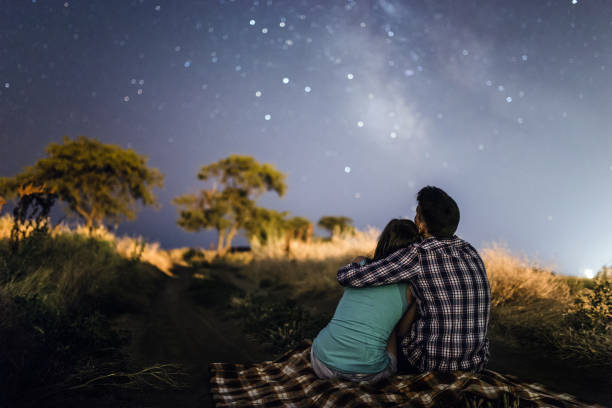 Find a Location With Low Light Levels
Generally, it is preferable to go to a remote location with low artificial light and pollution, but still, make sure your date is safe.
Be transparent about the location and communicate your plans. If you live in a fairly remote area that is not too cold and has little light pollution, simply find a place where you can sit together in the garden.
Cold Weather Protection
Blankets are a necessity. Even in summer, it can get very cold in the early morning hours, when the stars are at their brightest. Plus, it is an excellent opportunity to snuggle under a warm blanket.
Make sure you have a blanket big enough for two, and don't forget a warm beverage such as hot chocolate or mulled wine. Ask them which snacks they like and prepare them.

Set the Mood
Don't forget the music to set the mood. Nowadays, you can always play music on your smartphone, but don't forget to prepare a playlist.
Plan Your Star Targets in Advance
If you plan in advance the celestial objects and stars you will observe, you will be able to focus on your schedule and not spend time looking for targets to observe.
Using Stargazing Instruments
Our universe has many attractions. Even with the naked eye, many constellations, stars, and moons can be seen overhead. With binoculars, you may be able to find even more stars.
Have you ever planned a stargazing date? Share your experience with us in the comments below!