After completing a dream-like graduation, you need to celebrate this unique moment in your life. While most people know that a successful graduation party usually starts with good planning, many of us are not sure where to start. Here are some valuable tips for throwing the perfect graduation party!

Ideas for a Graduation Party
If you want to stay in town for the celebration, it's better to go to trendy bars or restaurants that offer delicious gourmet recipes but also have spaces where you can hang out after dinner. Venues should be easily accessible.
Avoid venues that are too crowded or where parking is tricky. For an outdoor celebration, choose a farmhouse on the outskirts of town, perhaps with a swimming pool. It will be an event immersed in the scents and colors of nature, and you can decorate the space to suit your ideas.
If you like the beach, you can also opt for a beachside venue and spend a whole day in the company of a small group of friends in summer. The atmosphere created by watching the sunset or the starry sky is second to none. If you have friends who play musical instruments, you can ask them to join you and enjoy the uniqueness and magic of live music together. And why not enhance them with a beautiful stage and sound and light installation?
Setup and Rental
If you're considering a ballroom or outdoor space, having equipment and furniture that you can rent for the occasion is essential. It's a good idea to choose parasols or stretchable structures as protection from the sun. These will act as shelter in the event of inclement weather or excessive heat, create real elegant space and decorate the whole room.
With imagination and creativity, you can treat yourself to the perfect space for your guests. You'll also need tables and chairs, and don't forget the clothes hangers, which are essential for keeping them clean and elegant. You can also create more private spaces with sofas and poufs and illuminate the room with LED lights for a beautiful landscape effect that's especially good for photography.

Decorations
The color red is not to be missed! You can combine it with white or gold. Fill the room with balloons and hang red Chinese lanterns, too: they cheer up the environment and symbolize reunion and prosperity. In between elegance, jokes, and fun, you can also plan a red carpet ride for yourself and your guests. Place it at the entrance and decorate it with plants and flowers: it will be an exceptional memory of the day. You can also organize a photo booth with fun gadgets like glasses, hats to take memorable pictures! Don't forget to create your hashtag for your day!

Invitations
You can use social media to create an event there, which while undoubtedly informal, is practical and very effective. Another solution is to create personalized invitations sent via email. However, if you are a traditionalist and like everything done right and with elegance, you can deliver the most classic paper invitations to family and friends in person. If you ask guests to confirm their presence, you can better organize the party.

Menus for the Graduation Party
If you have chosen a classic multi-course dinner, you should carefully evaluate the menu, suitable for people who do not eat meat or have food intolerances. The restaurant staff can certainly design the right menu to satisfy even the most demanding palates. We advise you not to go overboard with the number of starters so that you can fully enjoy all courses.
If you don't want your guests to attend an overly formal and static reception, a buffet is a perfect option to put everyone at ease. You can create a large appetizer section, which is always the tastiest corner in most events!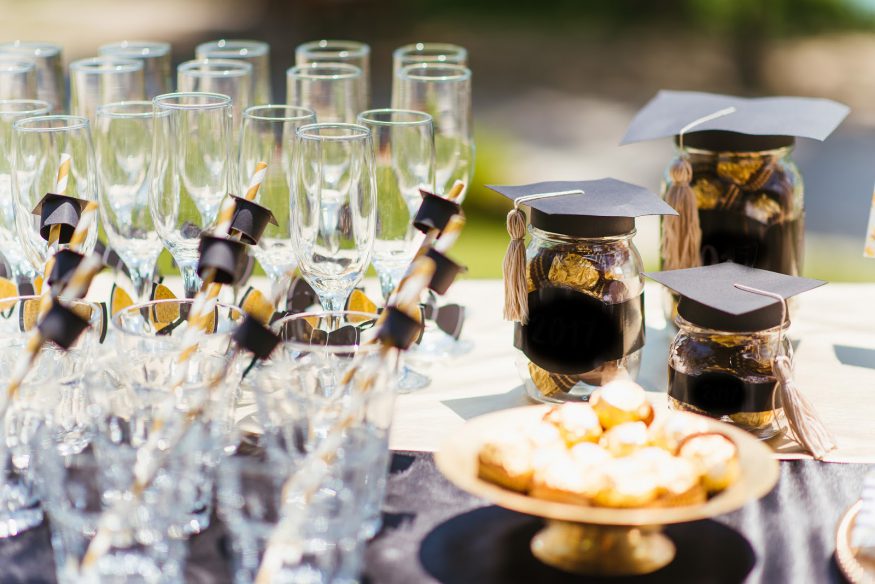 Let us know if these few tips helped in organizing your graduation party in the comments below!