Eating out together is fun, but a romantic dinner at home is even more lovely, and you can enjoy each other's company without waiters coming to the table every two steps or prying eyes! Here are some tips to help you organize yours!
1) Clear Schedule
Before getting into the specifics of recipes, flavors, and meal planning, create the scene for a romantic dinner for two. If you have children, now is the time to enlist the help of a babysitter. Also, if you have roommates, let them know that you need some privacy.
You may want to agree to spend the night free from technology by turning off the TV, putting your cell phone out of sight, etc. Making plans may seem forced, but it is a great way to protect your relationship from the enormous amount of "life" that constantly bombards you!
2) Cooking
Planning a romantic dinner requires some time and energy in advance, but this does not have to be stressful. You might have dinner together, cook together, and then do the dishes before starting dessert.
Since you cannot be in the kitchen for hours, choose ingredients that will make a beautiful, delicious meal in a short amount of time. Open a bottle of wine while cooking together. Don't like wine? Have a cocktail together!
Many restaurants will deliver delicious meals if the kitchen is not your thing. Checking the menu in advance to see if there is something you both like will add to the romantic atmosphere.
3) Whet Your Appetite!
To awaken romance between two people, it is a good idea to incorporate a heart-fluttering dish at dinner. Think oysters and bananas and salmon, strawberries, olive oil, cream, and pine nuts.
Salmon makes a great appetizer or main dish, while bananas, strawberries, and whipped cream make a delicious dessert in no time.
For dried fruits, walnuts, hazelnuts, or almonds will make a romantic evening.
4) Create a Romantic Atmosphere
Why not consider a playlist of the most romantic songs? A nice tablecloth, napkins, and a bouquet of flowers will also contribute to the ambiance. You can also leave sweet notes all over the place.
Stick a sweet sticky note in his pocket or jacket to hide it. Leave playful little messages here and there. Warm up for a romantic evening.
What could be more romantic than a house full of candles ? Dim the lights and enjoy a candlelight dinner.
5) Dinner Outdoors
Even if you don't have a well-kept yard, you can still create a romantic impression if you're lucky enough to have a balcony. Good food, beautiful skies, and romance come naturally.
6) Dress to Impress
When you first started dating, you probably stood in front of your wardrobe for hours, not knowing what to wear, but now is the time to wear your sexiest outfit for an evening of romantic and delicious meals.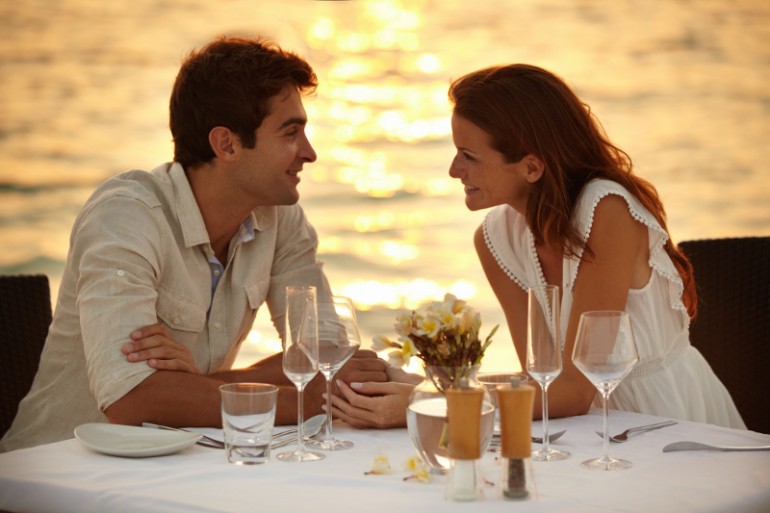 7) About Talking Points
Avoid talking about work, family drama, or anything with a negative connotation. It is good to talk about happy memories together and what you want to do in the future
The key is to think positively. If you are upset with them for whatever reason, save it for another time.
8) Enjoy, enjoy, enjoy
It's a night to enjoy the food, enjoy the romantic evening, and most importantly, enjoy each other's company. Don't stop at this one night. Plan at least one romantic night or dinner with the person you love each month.
With these tips, you should be able to plan a delightful surprise for your partner!