The joy of having kids is something that cannot be explained. Those little ones can bring you so much unparalleled happiness while also make you go crazy at the same time. And being a parent, there are so many things to think about to take care of your children's wellbeing, which include celebrating them every day of their life, to let them know how valuable and worthy they are, but also celebrating them on their birthday.
Anyone who wants a simple, quick and inexpensive solution to this problem can order a playroom, a character or a set of spidermen dishes. But what if you want something more interesting? I'm sharing some ideas for a fun and original way to celebrate a child's birthday.
A Fun Day at the Museum
You'd be surprised, but museums now offer fun educational programs specifically designed for birthdays. This could be a fun alternative to the traditional backyard birthday party.
For Animal Lovers
For the little monkeys, a day at the zoo could also be great excitement, especially if you invite a small group of kids. Visit a stud farm – the keepers will show and explain in detail how the horses are raised, and then all the children will be able to ride a real horse around the wheel themselves. Some stables have indoor or outdoor spaces to extend the birthday celebration. Nature lovers will enjoy a tour of the zoos and feeding the animals.
Adrenaline Boost
A fiercely fun birthday for those who are a little older: skateboarding classes. They are organized by indoor skateparks, or if you have friends, you can organize it in the park. You will need to rent the right number of skateboards. It's also fun to learn how to skate and, in winter, to ski downhill.
Sports Day
If you have very hyperactive kids, this idea is perfect! Organize a fun little field day where you create groups that will have to compete in a friendly way in different games like hula hoop, bag, tug of war.
For Our Little Michael Angelos
If you don't like physical activities, invite your child's friends to join you. Many children enjoy ceramics, silk drawing, kite or kaleidoscope making. Many children's studios and schools offer programs, so all you have to do is choose the one you like best.
Beauty Party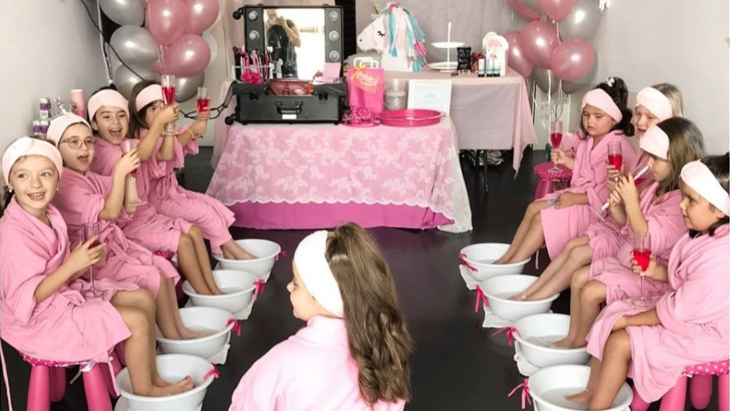 I'm not a fan of glitter or ruffles, but maybe it's better to let the girls pass that stage when they're five rather than when they're thirty-five, so a birthday party for the little beauties is sure to please the girls. It would be cool if it was all girls, though, because boys don't usually like to braid their hair, polish their nails or fidget in front of the camera.
Culinary Feast
You're sure to find a place where children can learn how to make pizzas, see a real restaurant kitchen and have fun as well as tasty food. Birthday parties organised by various suppliers where children make their own pizza, cupcakes or cookies, all participants receive diplomas and advice from a real chef.
Go Hiking
Many large cities already have outdoor kindergartens that offer others the joy of being outdoors on weekends. In many countries, a kindergarten invites children to go hiking for their birthday! This can lead to bunkers in search of bats, or to beaver trails, or treasure hunts.
Educational Party
A new and unconventional way to celebrate birthdays is to allow children to not only have fun, but also solve logic problems and even learn basic principles of physics. For example, some educational programs offer many activities ranging from keychain making to science experiments.
How did you celebrate the last birthday of your child? Leave a comment below to tell us about it all!