We have all seen the touching Bambi movie during our childhood. And, maybe you even showed it to your child who loved it and now wants a birthday party with this theme, especially in spring when we find those wonderful colors that represent nature. And if you are looking for ideas to make a Bambi party for kids, you've reached the right place. In today's article, we bring you some tips on how to throw an amazing event around this theme. Enjoy!
Everyone will be excited about the sweetness of this birthday party, whether it's thanks to the birthday invitations or the other decorations. Bambi is cute and sweet, so the party supplies will feature an array of pastel birthday decorations recalling the habitat where our little fawn lived.
Decorations
For decorations, you can go with cheap garlands, cake decorations, birthday candles, the best party balloons accompanied by confetti of matching colors, which you can spread all over your table. There's also an infinite number of other products on "nature themes" that you can combine in the best way possible to represent the beautiful forest where Bambi used to roam around with his best friends.
Location
As in any birthday, you cannot miss the food and dessert tables, and for that, the location choice is also very important. If you do it inside the house and have a terrace or balcony, the best location would be near one of the windows as this will help you to complete the decorations with part curtains and also hang some decorations.
On the contrary, if you plan you to throw your party outdoors, like in the countryside, the best option would be near a tree so that you can hang your decorations, like the traditional triangle-shaped pennants. And this will perfectly create the forest environment where Bambi lived.
Dessert Table
Once you've decided where to place the table, you can start decorating it. Always remember the pastel color scheme including light pinks, lilacs, pale blues, browns and greens.
We recommend you choose a tablecloth that is neutral in tone but at the same time striking since it is the first thing your guests will see on the table, You can then place flowers, butterfly confettis along with normal confetti to give your table that soft and warm touch that the little deer brings uus,
Your tableware can include disposable plates and paper cups with nature designs that will be ideal for the occasion. It will stand out among the food where you can use disposable trays so it's easier for you when it will come to cleaning after the party. This will also prevent the kids from breaking your dishes. Along the table, you can also put some small figurines of Bambi and its friends. Those can also be edible for more fun.
Balloons
Without a doubt, balloons for birthday parties are always a must. With them, you can make an endless number of decorations while playing with their size, shapes and colors.
A clear example would be to make a big arch with balloons over the table by combining the different colors that can be find in a forest in spring.
Another idea would be to recreate the shape of a tree, starting with the lowest part of the tree with brown colors and as it grows you can add green, yellow and orange tones.
Also, if your birthday party is indoors, you can blow up your balloons with helium and let them float to the ceiling and hang little butterflies, leaves or flowers from the string that falls from them.
Birthday Cake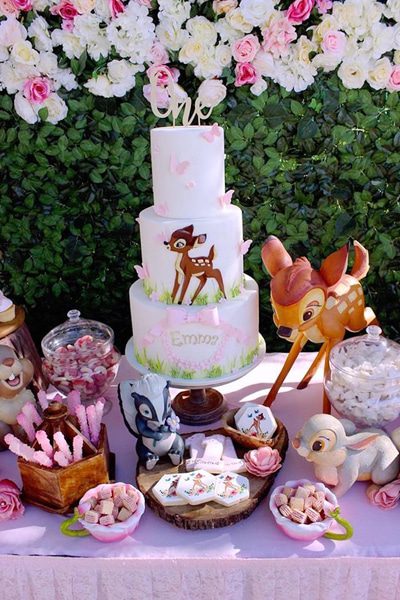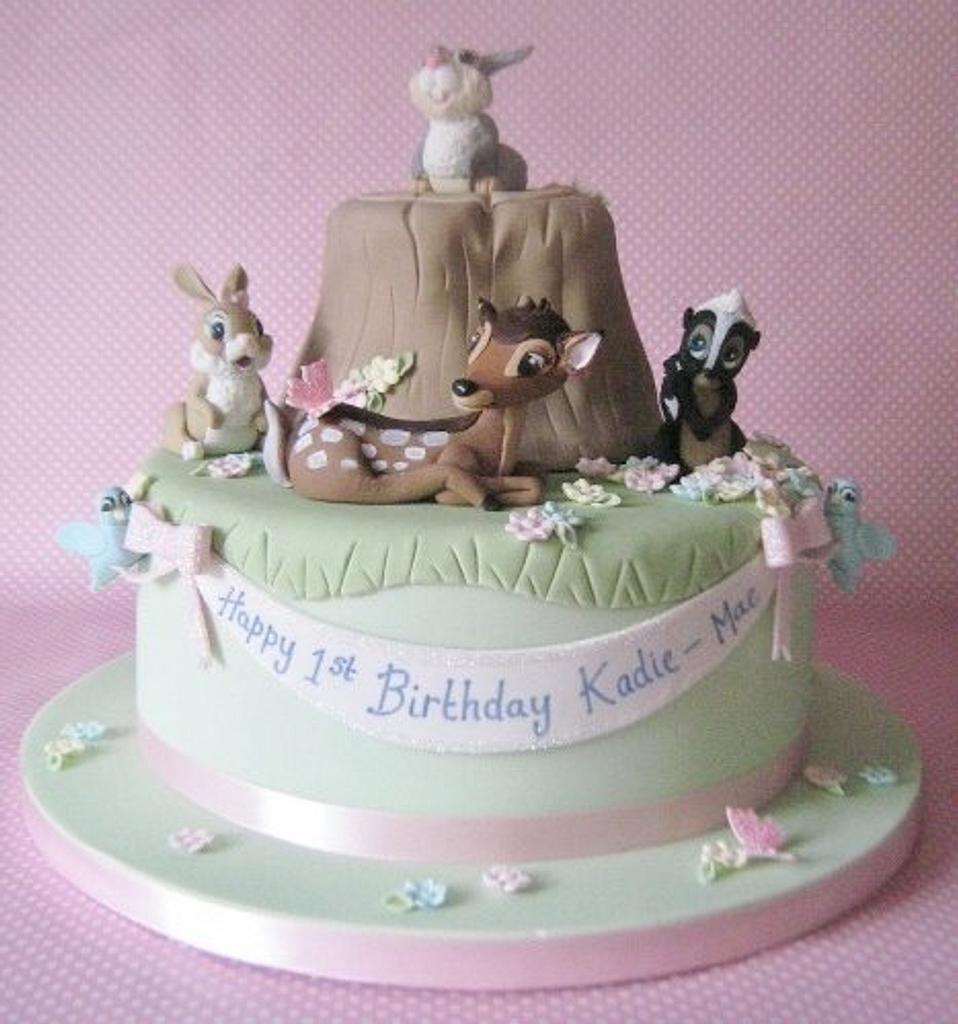 The birthday cake is the icing on the cake. That's where you can be the most creative. Children love sweets and colors so making a cake with the main characters of the movie would be great. Bet on the famous fondant, with which you can make an exquisite cover and play with it to make different molds and figures. And if you aren't a great baker, not to worry! We are sure any cake artist will be delighted to make a cake inspired by Bambi for you.
There you are! With those tips, you can be sure to throw a memorable Bambi birthday party. Do you have some ideas for fun activities for the big day? Share them with us in the comments below.