Have you always wanted to surprise the little ones in the house in the most impressive way? Would you like to throw a party that will be remembered for a lifetime? If your little one is a die-hard superhero fan, going from place to place with a cape on his back and dreaming of saving humanity from the bad guys, read on and take note, because a superhero party will make his day unforgettable.
The Most Exciting Touch
For the little ones, a party with a good themed decoration will amaze them and look super cool, however, we're going to give you a very simple idea to take it a step further and add that emotional touch to your superhero party. .
To make your party as exciting as it is fun, we're giving you something that your party shouldn't miss if you want the theme to have even more meaning. We encourage you to tell a good story related to the theme, which revolves around the protagonist of the party and his team, who will be the guests. You can outline one or more challenges, adventures or trials that they will have to overcome throughout the party to reach an end. It can also be a lot of fun to include one or more villains in the story, so you can make them up and tell a story about them, or dress up and be part of the party's fiction.
An Immersion in the Fictional World
This is a great way to start a party with kids because it can serve as a welcome to all and immerse them in the fictional world. You can make several mini-games in which the little ones introduce themselves and say their name or something about themselves, this way you will make sure that everyone knows each other and lose the awkwardness of the beginning.
Shields, badges, capes workshop…. Create your own character!
After a super exciting welcome comes one of the most fun parts of the party, creating your own character!
Let's get started! Now we're going to let our imaginations run wild, which kids love, and create the most amazing superheroes from scratch.
DIY Costumes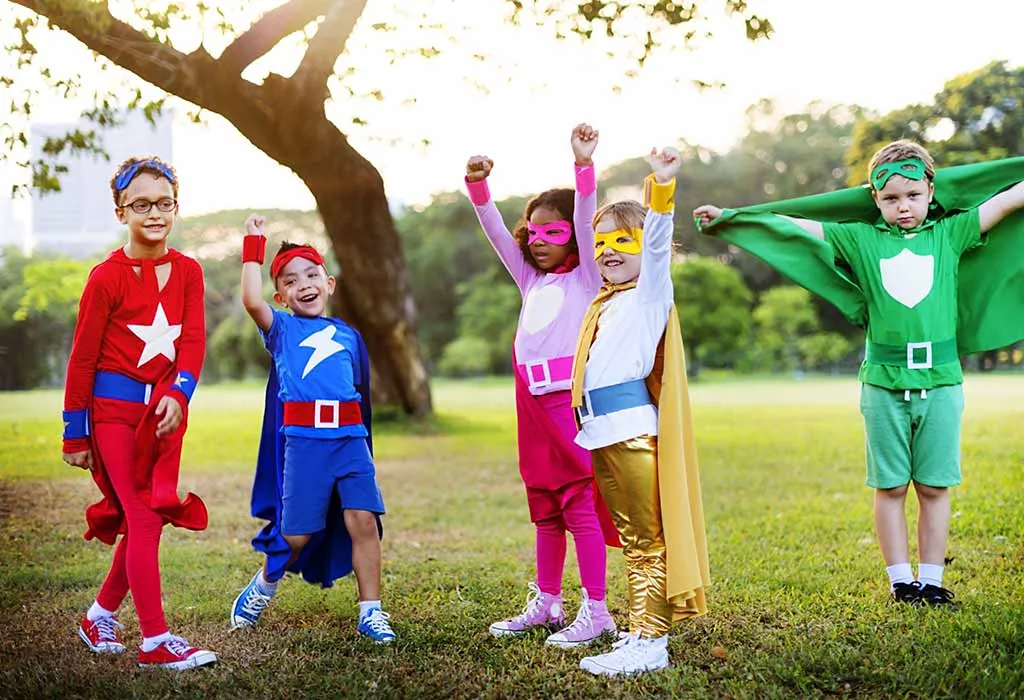 The little ones will have to think about their power, their superhero name and create their own capes and badges. As for the latter, the most fun and original thing is that they invent them themselves, however, we can show them some pictures to inspire them and give them ideas.
Don't forget that to make the badges and capes, you will have to get all the necessary materials in advance. Also, to make it easier for the kids, you can cut out templates to use as a guide when making them.
Original Themed Snack
After fighting the scary villains, the little superheroes will be a little tired and hungry; and they'll want to get their strength back. That's why we suggest surprising them with a fun and original themed snack. You'll see how excited they'll be when they see that the snack that awaits them is one more adventure in their superhero party.
For more inspiration, you can find a selection of favorite superhero party decoration ideas online to help you when preparing your party table, let your imagination run wild and you'll see that the result is as personal as it is unbeatable.
With these tips for hosting a superhero party, the little ones will feel like their favorite characters and we guarantee they will leave with a memory that will not be easy to forget. If you want to make it a lot easier, let our decorators and/or kids party hosts give you a cable.
Do you have any other tips? Share them in the comments below!